Special Thali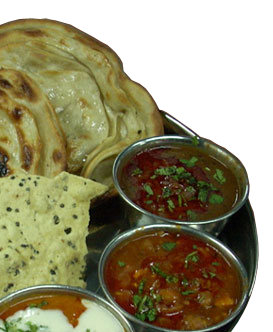 Tour Attractions
Amritsar is the most sacred place of Sikh community. Every Sikh wishes and tries to visit the Golden temple and bathes in the holy sarovar (pool) at least once in the lifetime. Golden Temple is the cradle of Amritsar with the city growing around it nurtured by its divine sanctity.
What To See
Golden temple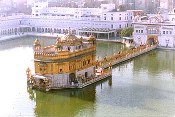 The temple is the most important sacred shrine for the Sikhs, who travel from all parts of the world to enjoy the blissful environments and offer their thanks by giving prayers. In addition, the sacred shrine is increasingly becoming a tourist attraction for visitors from all over the world. Here Sikhs from all over the world come to pay their reverence to Guru Granth Sahib and take a dip in the Amrit Saras Kund for spiritual purification, is the major landmark of the place. It was founded by the fourth Guru of Sikhs, Guru Ram Das. The Golden Temple is a two storey marble structure, with an imposing dome of pure gold. The original copy of the Granth Sahib, which is kept in the Golden Temple during the day, is ceremoniously returned to the Akal Takht, at night.
Durgiana Temple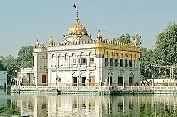 Located outside the Lohagarh gate of the old city, the temple is dedicated to Goddess Durga and is a centre of pilgrimage for devout Hindus. Other attractions of the city are Baba Atal Rai Tower, Ram Bagh garden, Fatehabad Mosque, Tarn Taran, Harike Wetland Wildlife Sanctuary, Wagha Border
Jallianwala Bagh
It is a poignant memorial of the freedom movement. This garden commemorates the martyrs, keeping the tragic episode in its historical context. General Dyer, a British general ordered firings against innocent people on April 13, 1919, which took lives of over 2000 unarmed people. Today, this site of brutal massacre, encloses a memorial with an eternal flame, dedicated to the martyrs.
Mata Lal Devi Ji Temple
A grand old pious lady developed this Hindu temple situated at Rani ka Bagh, on the lines of holy shrine of Mata Vaishno Devi at Katra (Jammu), the temple draws crowds of devotees from far and near. Festivals are celebrated with great pomp and show. An evening visit to the temple gives an opportunity to the visitors to observe the life styles of Hindu families.
Ram Tirath
On the outskirts of Amritsar is this significant historic birthplace of Lav and Kush. It is the spot where sage Valmiki's ashram stood and this is a sacred place for the Hindus where we get a glimpse of statues illustrating scenes from the Ramayana.
Wagah Border
This is an International border between India and Pakistan.