Special Thali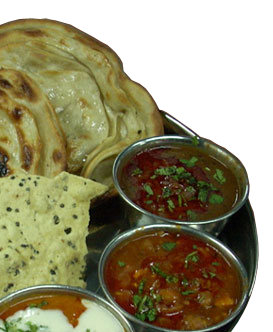 Amritsar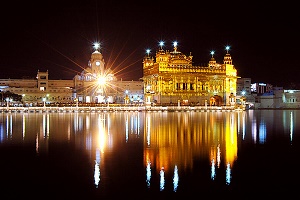 The Golden Temple Amritsar India (Sri Harimandir Sahib Amritsar) is not only a central religious place of the Sikhs, but also a symbol of human brotherhood and equality. Everybody, irrespective of cast, creed or race can seek spiritual solace and religious fulfilment without any hindrance. It also represents the distinct identity, glory and heritage of the Sikhs. To pen-down the philosophy, ideology, the inner and outer beauty, as well as the historical legacy of Sri Harimandir Sahib is a momentous task. It is a matter of experience rather than a of description.
As advised by Sri Guru Amar Dass Ji (3rd Sikh Guru), Sri Guru Ram Dass Ji (4th Sikh Guru) started the digging of Amrit Sarovar (Holy Tank) in 1577 A.D., which was later on brick-lined by Sri Guru Arjan Dev Ji (5th Sikh Guru) on December 15, 1588 and He also started the construction of Sri Harimandir Sahib. Sri Guru Granth Sahib (scripture of the Sikhs), after its compilation, was first installed at Sri Harimandir Sahib on August 16, 1604 A.D. A devout Sikh, Baba Budha Ji was appointed its first Head Priest.
Read More...
Bade Bhai ka Brothers Dhaba - No.1 Dhaba in Amritsar
Brothers Dhaba has been awarded No.1 Dhaba of Amritsar by Dainik Jagran for the year 2007-08 in Dhaba and Restaurant category. This huge eatery is located very conveniently at a prime junction in Amritsar and very prominently visible as you return after an elated visit to the Golden Temple from the Ghanta Ghar (Clock Tower) side.
You can boast it to be the best and most authentic original Punjabi food joint. Brothers Dhaba specialities are sarson ka saag and makke di roti, Amritsari Kulcha and chhole and Special Punjabi Thali that includes makhani dal and parathas. The Brothers' also offers vast varieties in food under one roof that include Chinese, South Indian, Pizza, Burger, Chat, Ice Cream- Sundaes, Shakes etc.
Stick to the traditional Punjabi food and you will come back licking your fingers.